"Anywhere Out of the World" – Now out in Paperback
23/09/15 20:11
"I
n December 1988, two days before the end of the year and less than a month before the end of his life, Bruce Chatwin dictated an encouraging letter to his friend and eventual biographer, Nicholas Shakespeare: 'So what's so awful about writing another book,' he queried. 'You can't escape your vocation'.

Writing did not always seem destined to be Bruce Chatwin's vocation; a sequence of false starts had to be navigated before he eventually settled down to his career. It became, however, the one steady element of a life defined by changes of direction; the only entanglement from which he never turned away."

From:
Anywhere Out of the World: The Work of Bruce Chatwin
by Jonathan Chatwin.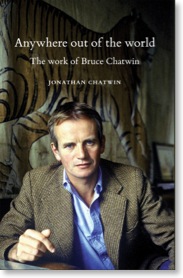 'In
Anywhere Out of the World
Jonathan Chatwin convincingly argues that Chatwin's fascination with the nature of human restlessness is at the core of all his writing as well as his restless lifestyle. [An] intelligent and readable survey ... Jonathan Chatwin's acute probing yields the best account yet of the origins of [Bruce] Chatwin's restless mania.' Nicholas Murray,
The TLS
, 15th February 2013
Buy in paperback and hardback at
Amazon.com
Amazon.co.uk
Manchester University Press