Bruce Chatwin's rise to prominence as one of Britain's most significant post-war writers was prematurely curtailed by his death in 1989. Chatwin established his reputation in 1977 with the startlingly original In Patagonia, and over the course of his career produced five major works that showcased the breadth and range of his talent; from the exotic biography-fiction of The Viceroy of Ouidah to the expansive theorising of The Songlines. Andrew Harvey wrote of Chatwin in 1987:

'Nearly every writer of my generation in England has wanted, at some point, to be Bruce Chatwin; wanted, like him, to talk of Fez and Firdausi, Nigeria and Nuristan, with equal authority; wanted to be talked about, as he is, with raucous envy; wanted, above all, to have written his books [....] No writer has meant as much to my generation.'

Follow us on Twitter at @chatwinnews for news and information.
Please do also check the excellent, unaffiliated Facebook page 'Bruce Chatwin Notebook'.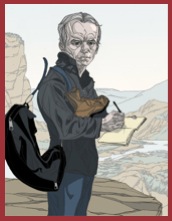 Credit: Shawn Yu